New Policy On Special Color Orders
We are glad to produce Waterloov in any color you desire from Service Partners Color options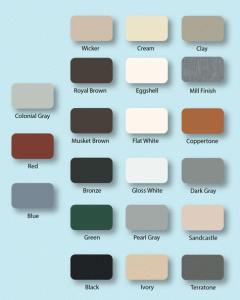 Special order colors are not available at box pricing, only per piece unless the order is for two boxes or more.
If you need 120 feet (40 panels), then we will order only enough to produce your order.
If we end up with 42 panels, you will be sent 42 panels and charged for 42 panels–we do not stock special colors.
Note that we order our metal Thursdays by noon and receive are delivered usually on Friday. If we get an early delivery before 9 am, it's possible for the special order to be completed on the same day, but usually it will be completed by the following Monday and shipped on Monday. Orders taken after Noon on Thursdays won't be completed until the following week.
Standard Colors
Gloss and Flat White
Bronze
Territone
Clay
Black
Royal and Musket Brown
Cream
Ivory (until we're sold out and then it will be special order only)
Green (11.75in only)
Dark and Light Gray